Paulino:

A Modern-Day Superman
At CasaSito, we strive to implement change among youth in Guatemala. Your generous gift supports our work, allowing us to invest in deserving youth. Paulino is an example of perseverance and success.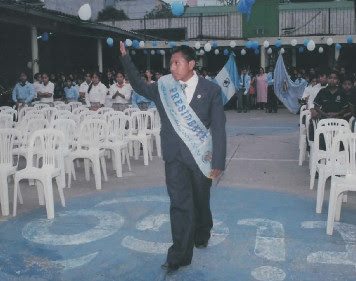 Like most Guatemalan youth, Paulino's family could not afford to send him to middle school. In order to cover school expenses, he got a job working as a builder's assistant. But the pay was not enough to cover school costs. Eager to find better financial support, he decided to inquire about CasaSito's scholarship program. Naturally motivated, he demonstrated his desire to continue studying and was accepted as scholar in 2010. As a CasaSito scholar, he received his high school diploma and continued on to university.
This year, he is finishing his university degree in auditing and public accounting, the first in his family to do so! He has been the first to do many things in his family – receive a scholarship, earn his degrees, try international food, and it was through CasaSito, Paulino got his first full-time job working at a reputable accounting office in Antigua. He keeps himself quite busy with running an accounting business with his brother, staying active at his local church, and working at Namaste, a local NGO!
Paulino's family likes to call him Superman because he has vision and never lets obstacles stop him from fighting for opportunities such as having an education. Paulino believes that "with an education, doors will be opened." Paulino shared, "I know CasaSito has helped me with everything – economically, emotionally, and socially. I wanted to give up at times, but CasaSito encouraged me to continue moving forward." His time with CasaSito ignited within him a passion in supporting other youth. Paulino gives motivational talks to youth encouraging them to continue studying, no matter what obstacles are put in their way.  He also plans to create an organization that supports the personal development and education of youth in his community of Alotenango.
We are so proud of Paulino's accomplishments. He is a true role model to others. As Paulino ends his time as a CasaSito scholar, we know that he will be successful in his future endeavors!
To hear more about Paulino's experience as a CasaSito scholar, check out this video!